Simply Living's 2019 Sustainable Living and Garden Tour
July 27, 2019 @ 10:00 am

-

3:00 pm

$15
NOTE: New Brochure includes a Map and descriptions of the 8 Tour sites.
Going green is good, but how? Simply Living will show you lots of nature-friendly ways to "green-up" your lifestyle and make your neighbors green with envy! This year we have curated a diverse selection of home
 owner
s and 
garden

s
selected to help you learn from local pioneers in sustainable living.
The self-paced tour offers unique opportunities to learn "what's next" for your home. A butterfly garden? Beekeeping? Native herbs? Or perhaps solar panels? an electric car?
What gets you excited? Talk one–on–one with our home owners at each toursite. Get answers to your questions. Leave with ideas and inspiration to take with you and create your own "green new deal" in your home.
Discover cutting edge, innovative practices like permaculture, how to remove and replace your lawn, create a meditation space or add esthetic features. A SWACO rep will be on hand to answer your recycling questions. Solar 101 info will be available from a local expert.
It's social too. Food, music, and literature on sustainability will enhance your experience in several locations.
Tickets are $15 for adults and may be purchased on Eventbrite. Children under 12 are admitted free. The tour will take place rain or shine!
Questions? Contact Chuck@simplyliving.org or call 614-354-6172.
See the map below for location of the 8 numbered tour sites. Descriptions for each location are provided below the map. To protect privacy of the owners, street addresses will be sent to you after purchasing your ticket(s).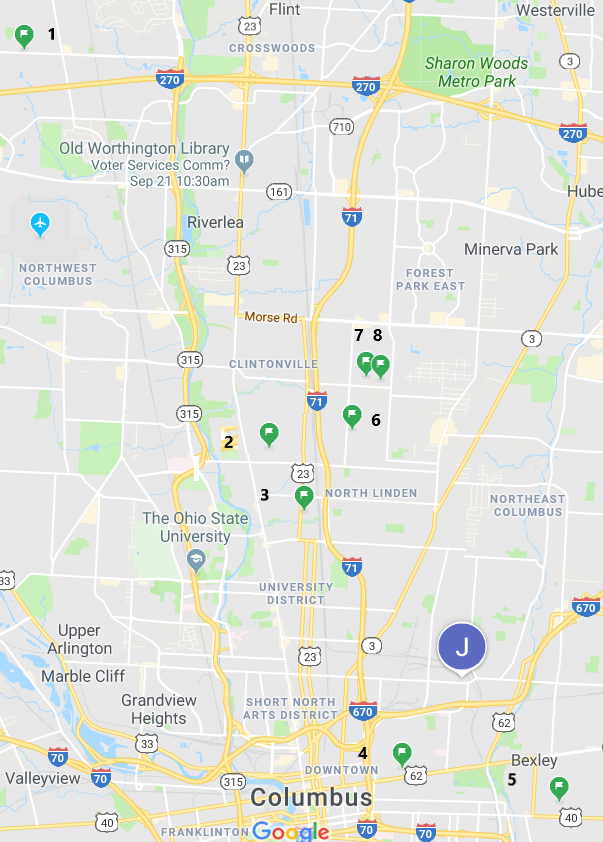 Here are descriptions of the 8 venues on our Tour this year.
This wildlife garden/urban homestead is a National Wildlife Federation Certified Backyard Habitat with two ponds, a food forest, a butterfly garden, a peace garden, raised bed gardens, backyard chickens and even a little walkway through "woods!" The lawn has been reduced by 75% and the gardens are pesticide free and include a variety of wildlife friendly, native plants. Northwest 1
The Columbus Garden School is a demonstration garden for growing edibles including grapes, berries, and asparagus along with honey bee hives. Currently Tisa is installing a half-acre prairie with a wide variety native plants to support pollinators. The remaining two acres are being planted with native trees, shrubs, grasses, and perennials for native wildlife. Master Gardener volunteers will provide information and answer questions and a SWACO representative will be available to answer recycling questions. North Linden 8
Foraged and Sown Urban Farm demonstrates how herbs, vegetables, berries, and nuts are grown on certified organic land and offered for sale at farmers' markets. Herbs are harvested and dried for processing into teas and salt blends. Their foraging ethic follows Leave No Trace principles and leans heavily on research and monitoring for each crop harvested to ensure true sustainability. Sturdy footwear recommended. North Linden 7
A Green Spot residence garden that includes edibles, ornamentals and native plants with pervious stone paths that meander throughout. It includes a Certified Monarch Waystation, Urban Wildlife Sanctuary, backyard conservation, and is a National Wildlife Federation Certified Backyard Wildlife Habitat. The site will host an "Ask a Master Gardener Booth" during the Tour provided by OSU Extension. Clintonville 3
Sunny Glen Urban Garden is an organic food, herb, & fruit garden, and wildlife & native pollinator habitat using natural, low cost, and easy to maintain methods. Dianne and Stephen can demonstrate how to incorporate native flowering plants and companion planting with vegetables and fruits, attracting bees, capturing rain water, lasagna/layer mulching, composting, and more! North Linden 6
Mezzacello is a residence (the home is not open for the Tour) and garden located in downtown Olde Towne East Columbus, Ohio. The idea for Mezzacello is derived from Thomas Jefferson's Monticello. Mezzacello seeks to emulate Monticello with four unique twists and constraints:
1. It is built entirely within a densely populated urban environment and subject to all rules and protocols imposed by the City of Columbus Department of Health.
2. It is designed to be a five point sustainable enclosed ecosystem comprised of 1868 dwelling, formal gardens, potager gardens, animal yards, and aquatic ecosystems.
3. Mezzacello makes use of 21st Century technology and 18th Century agricultural techniques to maintain, sustain, and integrate these ecosystems.
4. Mezzacello serves as a learning lab and test bed for new and traditional technologies and publishes those results via journals and blogs on its website, www.mezzacello.org
Mezzacello is a unique garden experience in that it is at once a residence, and experiment, and a public resource for advancing sustainable living in urban environments. All work has been the result of labor, resources, and innovations put forward by the owners. It continues to evaluate and modify its core mission to sustain both the social, physical, and mental health of the residents, neighbors, and visitors – both human and animal. Through this research Mezzacello seeks to impact not just the lives within Mezzacello, but the ecosystem of neighbors and a network of educators as well. This could be a model for how a society could reframe simply living as a garden and thrive.. Old Town East 4
A decorative street garden displays flowering annuals, perennials, herbs, strawberries, vegetables and a laughing baby Buddha. It features a lush meditative rear ornamental and vegetable garden making optimal use of a small city yard. The lawn in front was removed in a special layered process and replaced with stones and plants. The home participates in Bexley's free composting service to reduce food waste. Bexley 5
Empty nester homeowners redesigned their yard as an ornamental/meditation garden with a sitting area, a meditation space, and a simple labyrinth. Suzanne Csejtey of Design Energy will be available to answer questions about the solar panels on the home and Dan Barash, will answer questions about his 2017 electric Chevrolet Bolt. Clintonville 2